Red Hot, The Cure e Guns N' Roses poderão entrar para o Hall da Fama do Rock
Joan Jett, Faces e Beastie Boys também estão na briga
Há 3 anos da Redação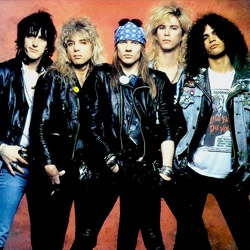 Os
Guns N' Roses
(ao lado) e mais
The Cure
,
Red Hot Chili Peppers
e os
Beastie Boys
estão entre os artistas que poderão ser eleitos para no Rock 'n' Roll Hall of Fame em 2012.
Nessa primeira etapa o comitê escolhe 14 nomes. Agora uma nova eleição será feita e desses, cinco serão os escolhidos a entrar para o seleto clube de laureados. Para que um artista se habilite a tentar uma vaga ele precisa ter lançado seu primeiro disco há pelo menos 25 anos.
O
Guns N' Roses
e o
Cure
estão em sua primeira indicação para o Hall, assim como o,
Heart
,
Joan Jett and the Blackhearts
, os pioneiros do hip hop
Eric B. and Rakim
, o grupo de soul setentista
The Spinners
, os mods do
Small Faces
(e a banda que nasceu a partir deles o
Faces
), o bluesman
Freddy King
e o
Rufus
de
Chaka Khan
,
Fulvio Maia/Grudaemmim
Anthony Kiedis do Red Hot Chili Peppers
Os
Beastie Boys
, os
Red Hot Chili Peppers
e mais a já falecida
Laura Nyro
, o grupo de funk latino
War
e o "Bob Dylan inglês
Donovan
tentarão uma vaga pela segunda vez.
Para os fãs de bandas que já acabaram ou com membros afastados essa é sempre uma época para se ter grandes expectativas, afinal uma honraria desse porte costuma fazer com que velhas desavenças sejam postas de lado, ainda que apenas por uma noite. Foi assim com os
Talking Heads
que se apresentaram na cerimônia após anos de separação por exemplo. Em alguns casos, como o do
Police
o reencontro até gerou uma turnê mundial.
Ao mesmo tempo nem o Hall da Fama conseguiu reunir todos os membros vivos
Beatles
, e muito menos o
Van Halen
, o
ABBA
ou
Peter Gabriel
com o
Genesis
. Será que a escolha do
Guns
faria com que Axl voltasse a se juntar com Dizzy, Izzy,
Slash
e Steven Adler? Aguardemos até 14 de abril, a data da cerimônia.

Quais desses 14 indicados merecem uma vaga no Hall da Fama do Rock? Comente.
Comente